Motorcycle Dealers in Salt Lake City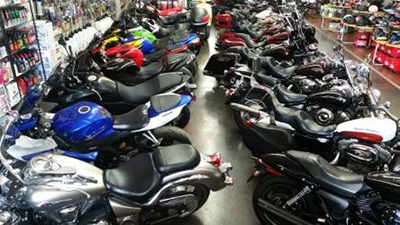 Since we first opened in SLC in 2005, The Quad & Cycle Shop has been synonymous with high quality, superior selection and friendly and knowledgeable motorcycle dealers in Salt Lake City. We don't see customers in our shop as walking dollar signs, but rather as fellow biking and quad enthusiasts whom we are lucky enough to assist. If this sounds like your kind of shopping experience, read on for more information on our brands and products.
Although we started out with a sole focus on Chinese products and brands, The Quad & Cycle Shop has since become a trusted source for excellent products and service for virtually any brand. Here is a closer look at the different brands we are happy to sell and work on:
Polaris
Arctic Cat
Indian
Kymco
Can-Am
Hammerhead
Kawasaki
Suzuki
Victory
Coolster
Harley Davidson
KTM
Triumph
Yamaha
Honda
Vespa
Among other brands
A new motorcycle, ATV, scooter or other vehicle is a big purchase, and if all goes well, it should also be a very rewarding experience. When you come to us looking for a new product, our staff will work to make sure you walk out of our shop as the proud new owner of a vehicle that perfectly suits your needs, preferences and budget.
In addition to new vehicles, The Quad & Cycle Shop is proud to have one of the best selections of used motorcycles in Salt Lake City. If you want to save money, try something new or have a favorite old model in mind, we are the place to visit first!
We look forward to seeing you at The Quad & Cycle Shop! If you have any questions, please give us a call at 801-467-7823, or visit our Contact Us page.